Dyke the Halls extra
As promised, here's the video of the rockin' reindeer.
If clicking on the video doesn't work, try
clicking here
.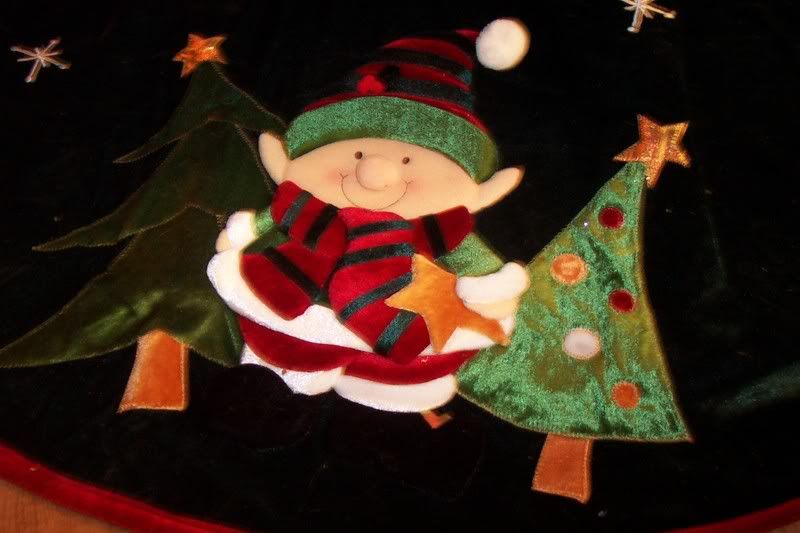 This is a picture of the Christmas tree skirt I bought as well. The picture doesn't really do it justice, but hopefully you can get a good idea of just how whimsical it is.
I brought stuff in to work today to decorate the office.
I'll tell you a secret --
Lisa's childlike love of Christmas is contagious
...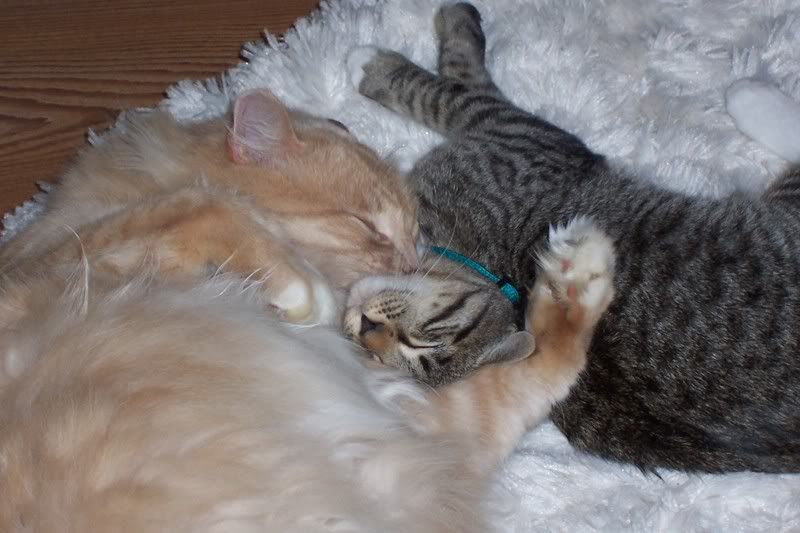 Caught Simba grooming the little one last night -- they're the best of buddies and it's just so cute to see them this way. When she's ready to settle down for a nap and he's already laying down, she snuggles right up with him, he grooms her, and they both nap.
Finally, a Christmas meme from
sassyfemme
:
1.
Egg Nog or Hot Chocolate?
Hot chocolate. Egg nog is...........EWWW!
2.
Does Santa wrap presents or just sit them under the tree?
Depends on the size. Larger items sit under the tree unwrapped, smaller items get wrapped.
3.
Colored lights on tree/house or white?
Mostly colored. But some inside decorating is with just white lights.
4.
Do you hang mistletoe?
Nope.
5.
When do you put your decorations up?
Sometime after the first of December.
6.
What is your favorite holiday dish (excluding dessert)?
Whatever is on my plate at the moment -- which explains the rather large derriere I sit on.
7.
Favorite Holiday memory as a child:
Going to my grandparents' house. Even now, 25 years after losing them, Christmas just doesn't seem the same. But, I try to make Christmas for my own grandchildren just as special a tradition as my own grandmother did.
8.
When and how did you learn the truth about Santa?
My mother, in a fit of anger one day, told us. I was devastated.
9.
Do you open a gift on Christmas Eve?
Even as a kid, we were allowed to open one gift Christmas Eve. It's a tradition I've held over with my own kids.
10.
How do you decorate your Christmas Tree?
Our tree is a sort of family history. There are all sorts of things that the kids made over the years in school, along with new priceless works of art from the grandkids. There are blue "blobs," paper doilies with school pictures pasted inside, glass unicorns received one year for Christmas, Buffalo Bills ornaments, wooden craft figures hand painted or decorated during Christmas camp, all sorts of wonderful memorabilia. And they're beautiful! Also, since Lisa and I have been together, we've gotten into the practice of buying an ornament each year that best represents the theme of the year.
11.
Snow! Love it or Dread it?
UGH! Hate shoveling it. Hate driving in it. Hate cleaning it off the car. BUT, I love the looks of it after a fresh snowfall, clinging to the trees and ground and with the sun sparkling off it.
12.
Can you ice skate?
*I* can, it's my feet that can't.
13.
Do you remember your favorite gift?
My Thumbelina doll when I was five.
14.
What's the most important thing about the Holidays for you?
Family.
15.
What is your favorite Holiday Dessert?
See response to #6.
16.
What is your favorite holiday tradition?
The youngest member of the family present when the tree goes up puts the tree topper on. These days, Uncle Joe has to lift one of the little ones up to reach it. We always play Christmas music and light the fireplace when the tree goes up
17.
What tops your tree?
A popsicle stick star, with little poofy balls at the end of each stick -- made some 20 years ago by my little boy.
18.
Which do you prefer giving or receiving?
I really enjoy giving gifts to other people. I've always felt a bit self-conscious about receiving gifts, always afraid I'm not going to react appropriately for the gift-giver.
19.
What is your favorite Christmas Song?
O Holy Night.