OUCH!
So, there we were, having a nice visit with my aunt and uncle Friday night at their house, talking about the Fall Foliage Festival that we'd be going to Saturday morning. We were talking about going to the breakfast they were having at the school, and then going to the festivities afterward.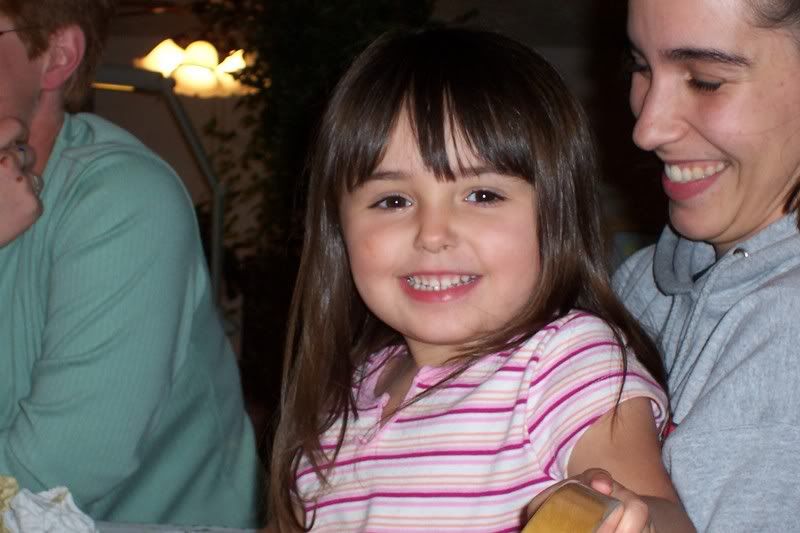 Around 10:30, my cell phone rang. It was Michelle, my oldest daughter. It seems that Cherlyn, my youngest granddaughter who is 5½ (pictured with her mom), was riding her bike and rode it right into the back of her daddy's Blazer. They were transferring her, via ambulance, from the rinky-dink hospital where they live up here to Strong Hospital's Golisano Hospital for Children. She has a broken nose (badly), the hard palette is broken, a fracture in the eye socket near the eye, and a fracture along the bottom edge of the brow. She also had a laceration in her mouth where the upper lip meets the gums.
We packed up and left my aunt's house and made the trip back home, an hour north. I dropped Lisa off at the house, packed a bag for an extended stay at the emergency room (drinks, snacks, etc.) and off I went.
After 8½ hours in the Pediatric ED, we got home Saturday morning around 7:30. They had done x-rays of her face, a CAT scan of her head, and another of her belly, and another x-ray of her thumb. They did the CAT scan on her little tummy because she was vomiting blood and, even though they were certain that it was merely blood that she'd swallowed, they wanted to make sure there weren't any other injuries that hand't been discovered yet.
They sutured her mouth (an oral maxillofacial dentist) and sent her home with instructions to return Monday morning at 9:00. We all fell exhausted into bed and slept for a couple of hours. Lisa had coffee going when we got up around 10:30 or so.
The poor little thing couldn't eat or drink, as her upper lip had swollen to a point where it was the same size as an adult's big toe. She said it hurt to swallow and we had to beg and plead with her to take fluids. We were finally able to get her to take fluids using a child's medicine syringe. A young man who lives next door to us is an EMT and he came over Saturday and Sunday to check on her and change the packing on her nose (it would ooze and become disgusting and had a bad odor).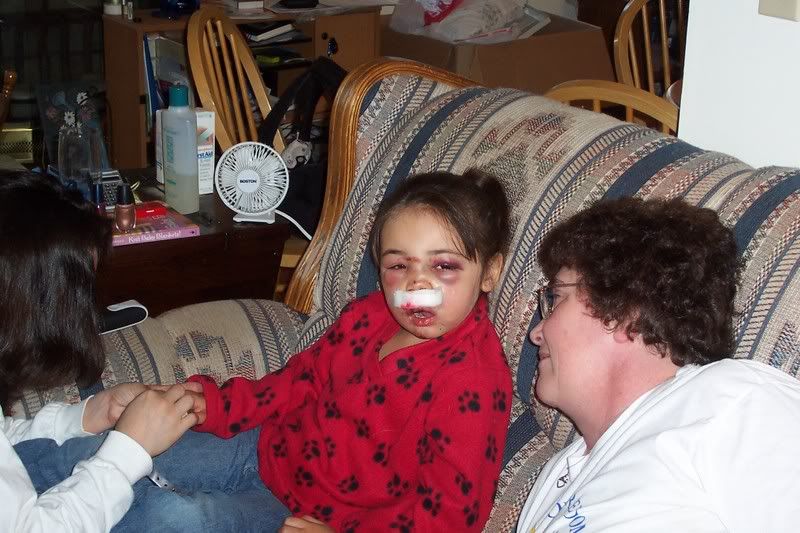 This is Cher yesterday. When she woke up, her eyes were swollen shut and no eyelashes were visible at all. We found a facial ice pack (a mask sort of thing) and were better able to ice her eyes and face with it. She seemed much more relaxed with it, and even sat with the whole thing covering her face, for more than 20 minutes, just enjoying the coolness of it. We felt it did a lot of good for her.
Today she had to go back in to the Oral Surgery Clinic to have it looked at. The doctor was pleased with how much better she looked (even though he didn't see her Saturday after we all got). He removed the packing from her broken little nose and, all things considered, we think she looks a lot better today.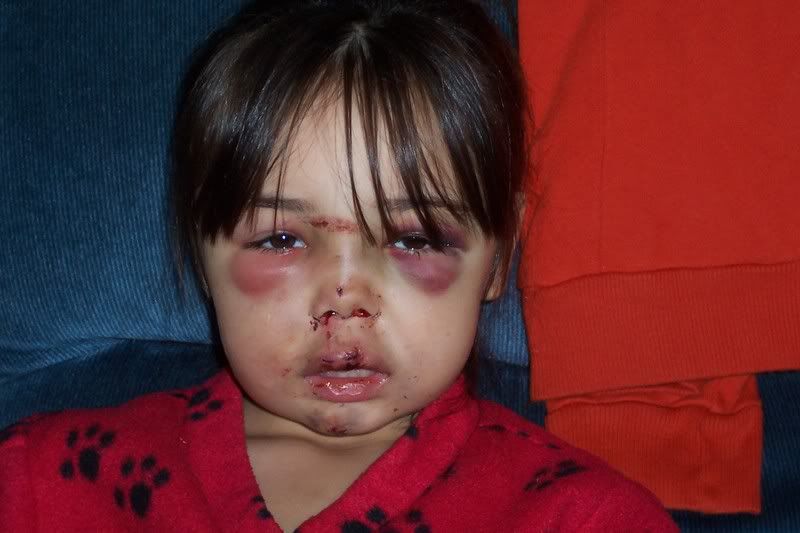 This is Cher today. While it may not seem it, she looks much better. After they removed the packing from her nose, all of a sudden the little monkey had an appetite and inhaled some applesauce and a couple of french toast sticks. She drank nearly a pint of orange juice, too. I suspect the packing pressing against the fractured palette may well have been the source of her difficulty in swallowing.
She's supposed to go back Wednesday morning for surgery. They'll do what they can to fix her nose and they think they may need to insert a plate around the fractured bones in her face for support. Surprisingly, the plate will dissolve in a few months. Amazing. I think the doctors were gently trying to prepare my daughter and son-in-law for the possibility that Cher may not come out of it in the same state she went into it (before the accident).
And I've also been working on Michelle trying to help her to accept that it is going to be what it is going to be. I'm not going to think the worse-case scenario and I don't think they should, either. Besides, they do remarkable things with facial reconstruction these days and, if the kids can't afford it, I know that there are grandparents and great-grandparents and aunts and uncles that will all pitch in to help pay for any surgery that health insurance won't cover.
What amazes me about this little girl is that she has not yet complained once about any pain or dicomfort. She has taken it like a little trooper and the only wimpering we have heard from her has been when we needed to give her penicillin, which she didn't want to do because it hurt to swallow so much. I pointed out to Lisa and to Joe that, any one of us adults, would be whining and complaining about how bad it hurts, but we heard not one peep of complaint out of this tough little girl. I told her yesterday that she's my hero because she's so brave. She actually tried to smile.
They've gone home now but will be back tomorrow evening so they don't have to get up at o-dark-thirty to be at the hospital by 8:00 (I live only 10 minutes away from it). I promised her I'd have macaroni and cheese ready for dinner for her.
They'll do surgery on Wednesday and they expect to send her home same day.
I was reminded of a line from
Fried Green Tomatoes
throughout this whole thing:
"My momma always said there's a separate God for children."
Indeed.
Labels: maxillofacial