Mopey Monday
Woo Hoo! We're having a good, old fashioned thunderstorm! Lightning flashing across an ominously black sky and the distant rumble of thunder. I love thunderstorms! Unfortunately, this is part of the same system that killed people in the midwest and it's supposed to bring some pretty high winds. It's 52 degrees outside right now, with the forecast calling for temperatures in the mid to high 60s. Tomorrow the temperature will drop 30 degrees (yes, that's a
thirty
) and we'll get a snowy blustery day. Welcome to western New York.
We got a lot accomplished this weekend, in spite of Mary's incessant bitchiness and bossiness. She was in rare form Saturday and I'm glad I told her Friday that we'd paint on Saturday and that we wanted Sunday to be an "us" day. I couldn't have tolerated her for a second day -- not without harming her in some way.
Mary has such a negative attitude that often she's unbearable. It was 60 degrees and sunny out, so I opened the sliding patio door for some air. She said "Oh, can we all freeze to death so you can have your hot flashes?" I ignored it. Then she started bitching about how the "cold, damp" air would make it harder for the paint to dry. It was neither cold
nor
damp outside but that didn't matter. Then she began barking out orders to do things that we didn't want done, and argued when we told her it wasn't what we wanted. From 10:00 AM until 8:00 PM we put up with it. Lisa said last night that she could have done nicely without Mary's help. Yes, it's nice to have an extra set of hands, but we sure as hell paid dearly for the help, too.
Anyway....
We started with the ceiling. Now, understand that I've run a fireplace, a kerosene heater, and had lots of smokers in and out of this house (before I quit smoking almost 8 years ago). You get a lot of greasy smoke residue throughout the house with this stuff, and the ceiling in the entryway was pretty disgusting. I also understand that there was a chimney fire in the upstairs fireplace during the ice storm in 1991 and I'm not sure the ceiling was cleaned after that, either. I tried to wash it a few months ago, but realized quickly that the stippling was just going to destroy anything we used on it. We
considered using a brush or a broom but realized we'd still have to wipe/rinse off whatever we used. You can see where I tried to wash it, just over the door. There's a clean spot there. You can also make out the greasy, blackish film from smoke and stuff. The walls are/were a beige sort of color (accented by primer in the picture, making them look whiter).
So, we decided to paint over the grime, and after that set, paint over that as well. We realized it was a bit chancy doing it that way, but what other choice did we really have, other than to spend hundreds of dollars to get the ceiling cleaned by a contractor? We used a flat ceiling paint (which Mary smugly told us would attract dust and dirt, because it did in her house). Mary and I did the edges of the ceiling (with me climbing the 12 foot ladder to do the highest points) and Lisa rolled paint on the largest surfaces using an extenstion pole and a roller brush with a 1½" nap. It worked beautifully, getting all around the peaks and dips of the stippling. Lisa indicated that it wasn't as difficult as we had expected it to be, and she had the ceiling painted in less time than it took us to "cut in" the edges.
We finished with two coats of paint on the ceiling and the walls, at around 8:00 Saturday. Sunday we slept in until about 9:00 and then decided to go to the Home Depot for mouldings and to actually buy the flooring that we had picked out (it's a self-stick tile). We had a list of things to look at and we ended up buying new hardware for the doors because, with the green, the brass doorknobs and hardware looked terrible on them. We found some in "antique bronze" and decided they would do, because the ceiling fan is a similar metal. We got 7 cartons of floor tile, a gallon of primer, two lock/key sets, and a dozen or so 8 foot lengths of various sized mouldings. We had a blast shopping, because we knew there really wasn't a strict limit on what we could spend -- we're putting our tax returns into this project. It's a lot more fun shopping for stuff like that when you don't have a strict budget!
After we got home, I pressed Lisa to go back to the Home Depot and buy the combo table saw she'd seen there. It was only $167 and was a 10" saw, with the tilt/angle ability to miter cut mouldings and frames. She hemmed and hawed and I told her that, with all we were planning to do in the house, it's not like it would be a waste of money. So, off she went and, while she was gone, I installed the new locks and handsets. She came back with a huge grin on her face and said "I feel LOVED today!" LOL! Lisa and her power tools....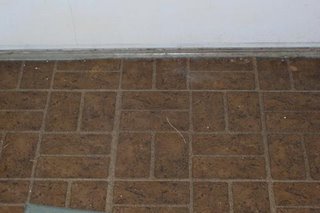 So, after she got back from the Home Depot, we decided that there was no time like the present to get started tearing the floor out. There are/were 3 layers of vinyl flooring that we had to get through, all 3 of which were old and brittle. The top layer was the brown you see in the picture, the second layer looked like a cream-colored imitation ceramic tile liked you'd put into the bathroom. The third layer was a really LOUD LOUD LOUD red flowered pattern. Very 70s (the house was built in 1971) and very YUCK! We got a little bit of the vinyl out and realized quickly that it would be prudent to just tear out everything from the thin underlayment up. Lisa went out and got her prybars and we started the destruction. Every couple of feet we ran into heavy duty floor staples and we had to stop and tap them into the wood flooring underneath. We got about a third of the floor torn up last night and will work more on it tonight. I've decided that I'm not going to post "after" pictures until the entire project is done.
To this point, the walls turned out a bit greener than we anticipated but we also believe that once we get the trim up and replace the "decor" it will soften up the green and make it what we had wanted, which was a white-looking green. I'm very pleased with the colors on the doors and the trim pieces
I love "creating" with Lisa. We work very well together (most of the time) and between the two of us, our creativity surprises both of us. I think I could have fun re-doing the inside of the house and not spending much money on the gardens this year. We've got mostly perennials in them so they don't need much planting. We just need to maintain them and, when we hanker for sun and fresh air, that's what we can do. Sure, I'll bust a few bucks and buy annuals for immediate color, but I'm really psyched about re-doing the house.
Saturday was my middle granddaughter's birthday. She turned 7. This is the one that has her Grammie wrapped, in a major way. She's just a little munchkin, weighing no more than her sister who is 2 years younger than her. She's tiny, petite, and an imp. She reminds me of her mother -- perhaps that's why she has me wrapped so well.
I continue to have to work alone in the office, and have difficulty keeping up, but somehow I manage. Mostly because my mindset is that, whatever doesn't get done in one day, just doesn't get done. And, I've invited the faculty to complain to my superiors if they feel work isn't getting back to them in adequate time. What else can I do?
Instead of sitting here typing exams and creating macros for grade sheets, I'd much rather be home destroying the floor. Or doing ANYTHING other than being here at work.
Back to the salt mines...