Holiday recap
Well, things have finally settled down enough for me to take a breather, before I go back to work, and assess the holidays.
From the NEVER A DULL MOMENT file:
December 22 (Friday) at 1:30 a.m. our phone rings. Now, as we all know, a phone ringing in the middle of the night is NEVER a good thing. Not only that, but one tends to awaken disoriented and unsure of what has roused them -- Lisa and I stared stupidly at each other in the dark, both wondering why the alarm sounded so funny, and why it was going off in the middle of the night.
Because the cordless phone in our bedroom is a piece of shit (to put it mildly) we cannot answer the phone in our room and, in the darkness, I was unable to see the button on the answering machine that would allow me to pick up on the speaker phone. The phone fell silent and almost instantaneously, my cell phone began to chirp out in the living room. Running naked through the living room, I snatched up the phone and ran back to the bedroom -- without my glasses on, I was unable to see who was calling.
It was my Aunt Wanda, sobbing and near hysterics. Her daughter, Robin, whom she was expecting in at the airport later that day, was apparently already AT the airport, and had been waiting to be picked up since 7:00 p.m. Robin is mildly mentally challenged and lives in a group home out in Connecticut and, each Christmas, her sisters pay for her to fly to spend Christmas with her mother and father. While Lisa spoke with my Aunt Wanda, I answered the phone that began to ring insistently again. It was my cousin, Peggy, calling to give me the information on how Robin could be picked up. They had paid for an escort, but the escort just dropped Robin off at baggage claim, and left.
You see, I live only a mile from the airport, and my aunt and uncle live 65 miles away from it. It only made sense for me to go to the airport to fetch Robin. And so, at 2:00 a.m., I was backing out of the driveway to go to the airport to get Robin. I told my aunt and uncle to just stay put and come collect Robin later in the morning, as I would just bring her to my house, feed her something (she'd had no dinner) and put her to bed here.
We got back home at 2:20 and, as we came into the house, the smell of eggs greeted us. Lisa had gotten up, gotten the bed in the spare bedroom made, and was fixing eggs and toast for Robin. After she finished eating, we got Robin settled into bed and I was back in bed, exhausted, by 3:00.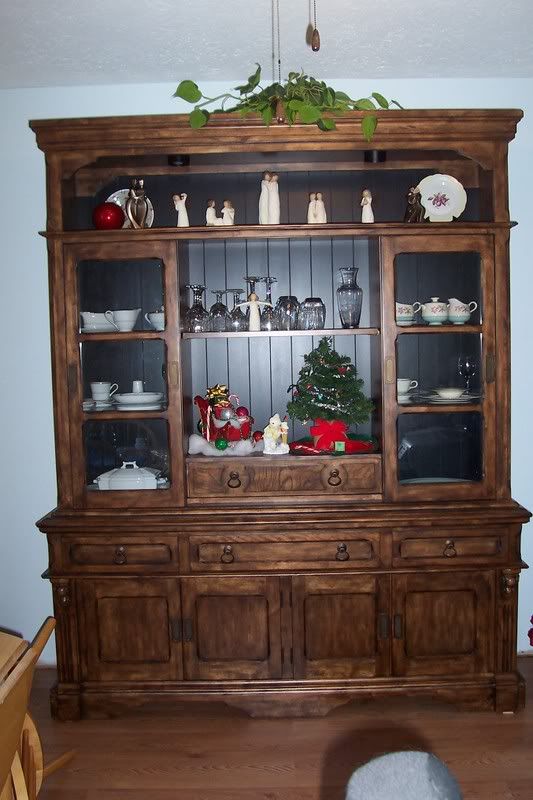 I was at work by 7:30, anxiously watching the clock, waiting for noon so I could go home. Our new hutch was being delivered. We weren't expecting it until mid-January so getting it just before Christmas was a hugely welcome surprise. And, it was all that we had hoped it would be. We unpacked Lisa's grandmother's china and put it in one side, mine in the other, added our Willow Tree Collection figurines, some Christmas decoration, and there it was -- magnificent!
Saturday we moved the couch and recliner from the upstairs living room down into the family room, in order to make room for the dining tables that would accommodate our ten family members that would be present for dinner Christmas Day.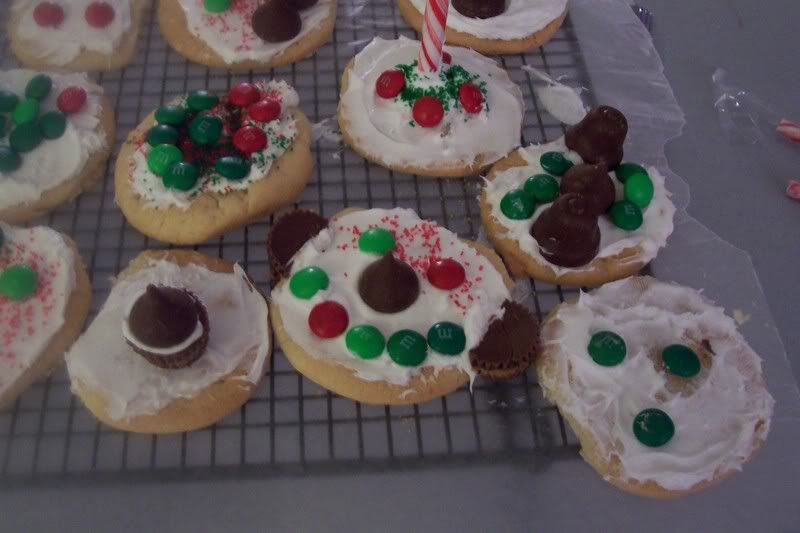 Michelle and the girls arrived in the early evening and we set to work decorating stockings and frosting cookies. The kids used M&Ms, sprinkles, mini-peanut butter cups, candy canes, and chocolate bells. We got the two little ones into bed around 10:00 and let Vanessa help with the Santa stuff before we all fell exhausted into bed around midnight.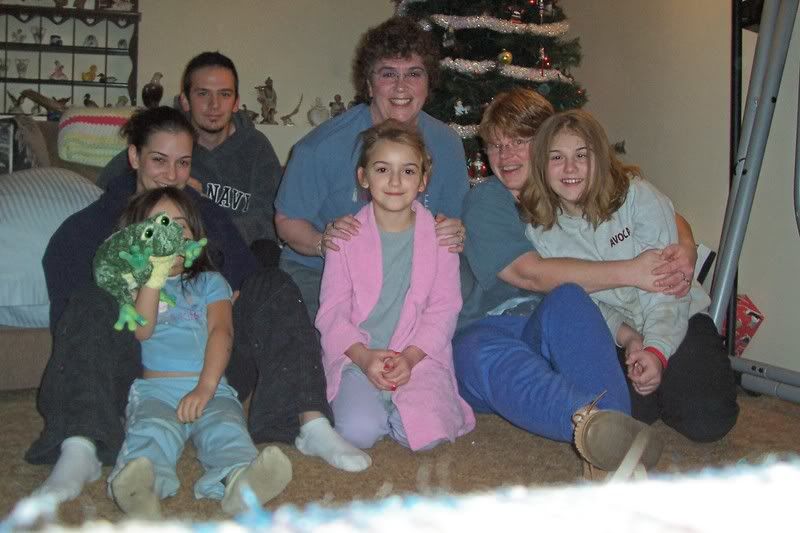 Christmas morning broke with everyone sleeping until just about 8:00 -- major bonus there! Lisa put on some Kona coffee and the kids leisurely went through their stockings. Then, in our sweats, pajamas and bad bed hair, we opened present after present after present, listening to the squeals of pleasure from the girls, and from Lisa when she opened her laser-guided circular saw.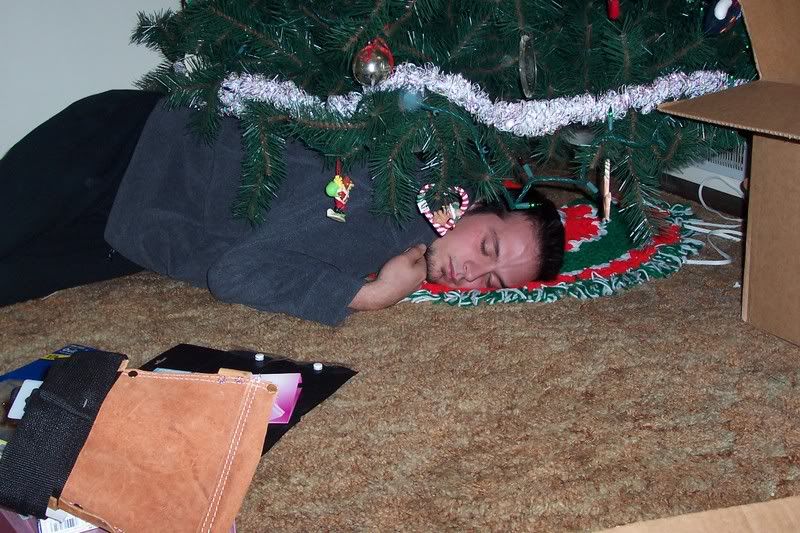 Tuckered out after the excitement of Christmas morning, Joe dropped off to sleep, dreaming of Playstation games, new clothes, and bartender aids.
Since Christmas day, it's been quiet and restful. Joe and Taylor headed out to Connecticut on Tuesday and just got home last night. Lisa worked only two days last week, and spent much of her time off relaxing as well.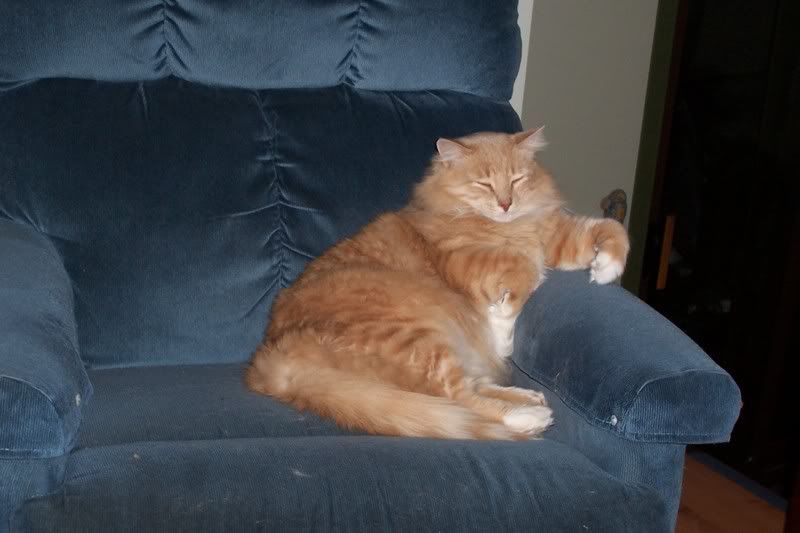 New Years Eve we lit a fire in the fireplace, settled in downstairs in the family room to watch television and drink champagne and welcome in the new year. Like any typical male, Simba was crashed in the recliner, looking like the alpha male who would likely demand a beer, his slippers, and a smoke.
I started a weight loss program yesterday, looking to lose as much as 60 lbs. Wish me luck.
And here's a wish for all of you -- may your new year see much happiness, health, luck, and resolution to some of the drama that you've lived through.
Me? I'm hoping for a drastically reduced level of drama.